PhiBrows

Advanced Facial Treatments

Skin Boosters

Hair Removal

Hands & Feet

Brows & Lashes

Make Up & Tanning

Massage
At Cloud Nine, we are trained to discover exactly want your body needs to ensure that you feel radiant and renewed as well as aiding your body in recovery through natural and holistic methods. There are many natural benefits from regular massage therapy including:
Stress Relieve - stress can take an emotional and physical toll on you, in the long-term. Massage therapy may relieve conditions associated with stress such as tension headaches.
Immune System Functioning - medical research has shown that massage therapy can boost your immune system strength by increasing the activity level of the body's natural "killer T cells," which fight off viruses.
Boost Your Mental Health - medical research indicates that symptoms associated with mental health associated with mental health such as stress, anxiety and depression may be directly benefited by regular massage therapy.
Pain Management - your quality of life can be negatively affected by constant pain as well are impeding recovery from illness or injury. Research suggests that massage has a role to play in pain management.
Physical Fitness - regular massage therapy can reduce muscle tension, improve exercise performance and prevent injuries.
In addition it is worth checking your health insurance policy as some insurance companies allow you to reclaim some of the cost of your massage treatments.
Massage Treatments @ Cloud Nine
Massage therapy can become an important part of your approach to health and wellnesses as well as leaving you feel rejuvenated, radiant and relaxed. Cloud nine health & beauty clinic offers the following massage services:
This is a 25 minute treatment for that hard to reach area.
This is a 35 minute treatment and is an ancient treatment using pressure points on the feet to help heal and restore body and mind.
This is a 35 minute treatment. It is a tension relieving massage for the face, neck and shoulders which re-balances energy and relaxes the entire body.
Deep relaxing massage to manipulate tired, tense muscles. Perfect for all aches and pains this massage can be tailored to suit each client from light to deep pressure.
Ultimate relaxation and five times more effective than a regular massage. Hot basalt stones are glided over the body from the soles of the feet to the top of the scalp, melting away knots, boosting circulation and relieving tension. Also includes a scalp massage.
Lava shell massage is a type of heat treatment that uses tiger-striped clam shells as a massage tool to gently relax and smooth away knots. The shells also give off calcium ions when heated, which transfers to your skin during the massage to help firm and regenerate the skin. This ultimate relaxation massage will help to boost circulation, soothe aches and pains and reduce swelling and water retention.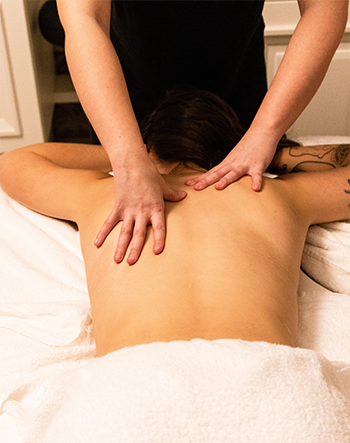 Fast track your journey to beautiful healthy looking skin…
049 854 2697
look & feel your best...
Check us out on social media